We've just returned from visiting friends in Albuquerque, New Mexico.
(No matter how many times I try to spell Albuquerque, I keep spelling it wrong!)
We had an amazing whirlwind of a trip and we even spent some time at the Hot Air Balloon Fiesta! What a treat! I couldn't believe all the gorgeous hot air balloons. The colors and sights were out of this world! I could've stayed the whole week just to watch them all! The beauty of the balloons was mesmerizing! Can you even believe these shots were taken from my phone!

We stayed in our friends' beautifully decorated Southwestern home. My friend LOVES to decorate for every season! Bins and bins of seasonal decor line their enormous RV garage. Their home was decked out in everything fall and autumn. Pumpkins, squash, gourds, hay bales, scarecrows, etc. etc. It was over the top! She even had fall leaf salt and pepper shakers and pumpkin shaped place mats!
One thing that my husband and I noticed was the snack mixes she had out while we were there. They were displayed in pumpkin shaped pottery and left out the entire week-end on the counter. Her mixes were simple combinations of spicy nuts
(everything is spicy in New Mexico)
and candy corn. It was the perfect thing to leave out for guests. If someone needs a snack, it's there...and they don't even have to ask or snoop around the kitchen.
I should tell you that we were constantly eating amazing (spicy) delicious food all week-end, so we really didn't need the snack mixes, but nonetheless it got me thinking on how I can be a better hostess when guests stay with us. And we just happen to have guests staying with us this week-end, so I'll be whipping up a few of these mixes. Take a look.

I'll start with our family's favorite mix...It really is soooo good! I'd like to blame this mix for my tight fitting pants!
Everyone always asks for the recipe.
Autumn Treat Mix
Let's go next to this mix that I'm trying tonight-- as soon as I run out and get the ingredients. AH goes crazy over cinnamon and sugar, so I know he'll die when I make this!
Caramel Churro Chex Mix
Do you like peanut butter, chocolate and popcorn together? I do! This mix has my name written all over it!
Just 5 minutes to whip up this sticky mix. It sticks together with corn syrup, butter and spices. Mmm!
5 Minute Pumpkin Spice Chex Mix
Check out the severed fingers in this one---creepy!
Tombstone Crunch Mix Halloween Recipe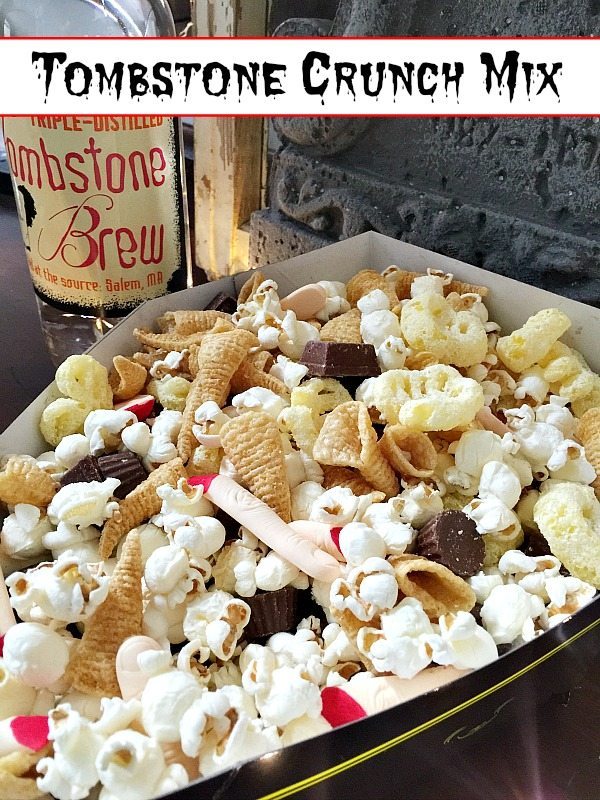 This mix is full of crunch and spice as well as sweet and salt.
Pumpkin Spice Mix
Now, this mix scares me more than the severed finger one...I'd probably start eating and never stop! It uses bacon fat popcorn?! Is there really such a thing? Oh my!
Sweet and Spicy Homemade Mix


And of course I needed to add in a few healthy mix ideas!
5 Minute Fall Trail Mix (Paleo & Vegan)
Doesn't this look good?
This one cooks in a Crockpot for 90 min. Can you even imagine how good it smells?
Slow Cooker Paleo Pumpkin Spice Trail Mix
And don't forget that you can always set up a 'Make Your Own Trail Mix Bar'. All ingredients are laid out and everyone makes their own mix. We did this at my mother-in-law's party a few years back. It was a HUGE hit! Take a look.
Hiking Party with make your own trail mix
Happy 'Mixing'!