It's time! It's time!
24 days until Valentine's Day! That means one day of Valentine posts for each letter of the alphabet. I LOVE Valentine's Day! Friendship and love notes that are so fun and sweet, some with puns, some without, some cute, some crazy--what's not to like?
Whether you have school aged kids that need valentines, or you just want to spread some love to friends, coworkers, family or loved ones, I've got some great ideas for you! 26 days of Valentine printables! Check back everyday.
Today is the Letter C.
C is for Chocolate. I've rounded up a bunch of chocolate Valentine ideas for you, because chocolate is the best part of Valentine's Day, right? Well, maybe the second best thing?
This post contains affiliate links to help you locate products.
Every kid loves these
chocolate coins.
Bag some up and add on this printable tag.
Chocolate Coin Valentines by Views From a Step Stool
Use this tag for any chocolate gift, especially these chocolates. Super sweet and easy!
Chocolate Gift Tag by Somewhat Simple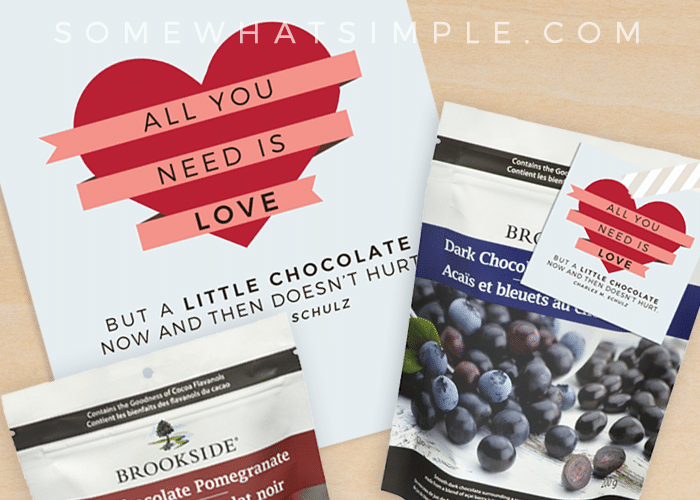 Chocolate Kisses and white chocolate Hugs make a yummy Valentine's treat.
Showering You with Hugs and Kisses
Individual sized York chocolates make some cute Valentines.
York Valentine Printable by Dukes and Duchesses
Print out these cards and attach a chocolate heart. Fun and easy!
Printable Arrow Valentines by Lisa Storms
Make these little boxes, then fill with chocolates.
Printable Chocolate Candy Boxes by The House That Lars Built

Mini sized Snickers attached to this printable--just might get a laugh or at least a chuckle.
Snickers Valentine
Small boxed chocolates will go perfectly with these printables.
Chocolate Box Printables by Studio DIY
Use a few paper scraps and these Hershey's Chocolate Nuggets to make these adorable Valentine mailboxes.
Mini Chocolate Mailboxes by No Biggie
Print out labels and attach them to chocolate kisses! A perfect Valentine candy!
Hershey's Kisses Labels for Valentine's Day by Makoodle
Million and billion chocolate candy bars are found in many grocery and drug stores. Print out tags and attach with ribbon for an eye catching Valentine.
Million/Billion Valentines
If you missed Letters A and B of this year's series, click here.
Take a look at my A to Z Valentines from last year.
Letter A- Apples
Letter B- Balls
Letter C- Cookies
Letter D- Donuts
Letter E- Emojis
Letter F- Frogs
Letter G- Gum
Letter H- Hearts
Letter I- Insects
Letter J- Jokes
Letter K- Kisses
Letter L- LEGO
Letter M- Money
Letter N- Nuts
Letter O- Office
Letter P- Popcorn
Letter Q- QT Pies
Letter R- Race Cars

Letter S- Scripture
Letter T- Tic-Tac-Toe
Letter U- Unicorn
Letter V- Vader
Letter W- Whales
Letter X- X for Treasure
Letter Y- Yo-Yo
Letter Z - Zoo
Want even more ideas? See my Valentine Vault of all valentines on michellepaigeblogs.
If you've enjoyed this Valentine post, please follow me on
Facebook
and
Instagram
for even more fun.

CONTINUE READING