Welcome Back to my A to Z Valentine Printables.
26 Printable Valentine ideas for each letter of the alphabet.
Today is the Letter E.
E is for Eye Glasses
Not sure what it is about eye glasses, but this was my year to embrace them. Those words on the page kept getting smaller and smaller until I finally had to 'break down' and get some reading glasses of my own. I think they make me look smart...my kids think I look old. Oh well.
Take a look at these fun eye Valentines.
Spectacular Valentine Printables
We Make A Great Pair by Somewhat Simple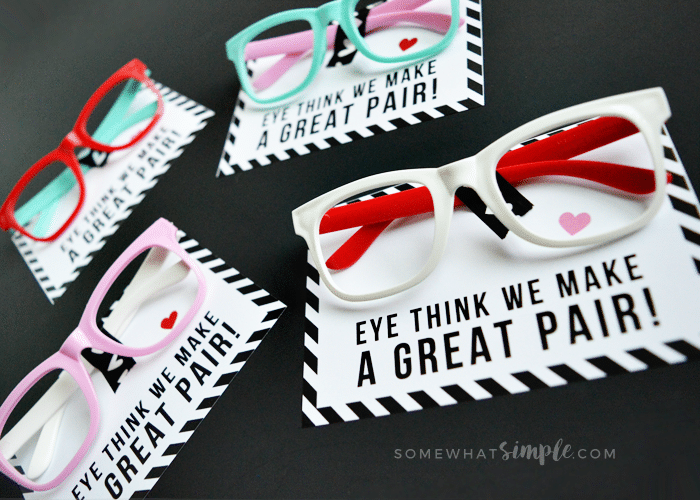 Eyes Only For You by Create, Craft Love
I Only Have Eyes for You by Just a Girl and Her Blog
You Are A Really Great Friend To Me by Homemade Beauties by Heidi
I've Got My Eyes On You by Paper Trail Design
Eye Think You Are Amazing by Who Arted?
Got My Eyes On You by Lil' Luna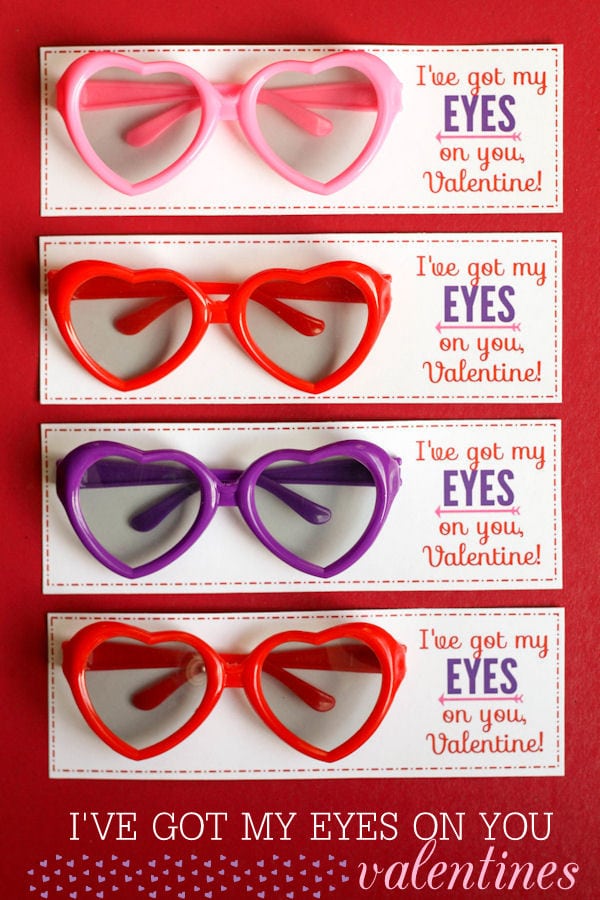 I Only Have Eyes For You by Mother's Niche
I've Got My Eyes On You by B-Inspired Mama
I just have to include these little Get Well Soon tissue boxes from the archives of my blog. Eye Hope You Feel Better. Perfect little gift for someone who's sick...my kid is currently battling a cold...I'm praying I don't get it! ugh.
This post contains affiliate links to help you locate products.
Want to see all the ideas in this A to Z Valentine Series?
Take a look!

Letter A- Animals
Letter B- Boy
Letter C-Chocolate
Letter D- Dinosaurs
Letter E- Eye Glasses
Letter F- Fish
Letter G- Greenery (Plants)
Letter H- Around the Home Love Notes
Letter I- Ice Cream

Letter J- Jellybeans
Letter K- Kool-Aid
Letter L- Light
Letter M- Mustache
Letter N- Ninja
Letter O- Olympics (Winter)
Letter P- Puzzles
Letter Q- Quirky
Letter R- Robots
Letter S- Straws
Letter T- Teachers
Letter U-
Kitchen
Utensils
Letter V-
Scripture
Verses
Letter W-
Candy Bar
Wrappers
Letter X- XOXO
Letter Y-Yolk & Egg
Letter Z- Zebra
Check out my A to Z Valentines from last year.
Letter A- Apples
Letter B- Balls
Letter C- Cookies
Letter D- Donuts
Letter E- Emojis
Letter F- Frogs
Letter G- Gum
Letter H- Hearts
Letter I- Insects
Letter J- Jokes
Letter K- Kisses
Letter L- LEGO
Letter M- Money
Letter N- Nuts
Letter O- Office
Letter P- Popcorn
Letter Q- QT Pies
Letter R- Race Cars

Letter S- Scripture
Letter T- Tic-Tac-Toe
Letter U- Unicorn
Letter V- Vader
Letter W- Whales
Letter X- X for Treasure
Letter Y- Yo-Yo
Letter Z - Zoo
Want even more ideas? See my Valentine Vault of all valentines on michellepaigeblogs.
If you've enjoyed this Valentine post, please follow me on
Facebook
and
Instagram
for even more fun.