Something's fishy...do you smell anything? Let 'minnow', please.
You've o'fish'ally been 'caught' on my page of A to Z Valentines.

26 days of Valentine printables and a whole lot of puns!

Today is the Letter F.
F is for Fish.
Do you have a child 'hooked' on fishing? Or maybe it's all about the 'fish food'? Goldfish Crackers, gummy Swedish Fish, gummy worms and even plastic fish toys work for these Valentines.
These Fish Pun Valentines of mine use Swedish Fish and small cellophane bags (aff.link). Of course you could replace the candy with small plastic fish toys like these, click here (aff.link).
Fish Valentine Printables by So She Says
So Glad We're In the Same School by The Gracious Wife
You're A Great Catch by Amanda's Parties To Go
Fishing You a Happy Valentine's Day by Kenarry
You're Ofishally An Awesome Friend by C.R.A.F.T.
Fishing You a Happy Valentine's Day by Frogs and Snails and Puppy Dog Tails
Fintastic Valentine's Day Card by Everyday Mom Ideas
(There's something about this next pun that always makes me chuckle...I might have to make this one for a few of my true Swedish friends--they'd die!)
Swedish Fish Valentine by It's Always Autumn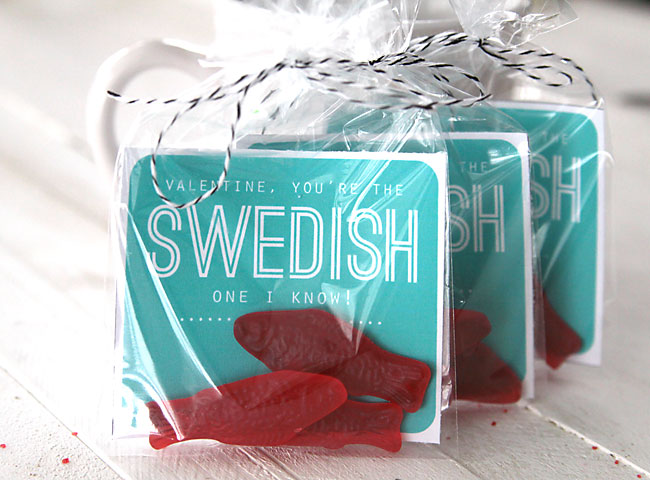 Need more fish ideas? Check out this great Fishing Party we had for Father's Day.
Want to see all the ideas in this A to Z Valentine Series?
Take a look!

Letter A- Animals
Letter B- Boy
Letter C-Chocolate
Letter D- Dinosaurs
Letter E- Eye Glasses
Letter F- Fish
Letter G- Greenery (Plants)
Letter H- Around the Home Love Notes
Letter I- Ice Cream

Letter J- Jellybeans
Letter K- Kool-Aid
Letter L- Light
Letter M- Mustache
Letter N- Ninja
Letter O- Olympics (Winter)
Letter P- Puzzles
Letter Q- Quirky
Letter R- Robots
Letter S- Straws
Letter T- Teachers
Letter U-
Kitchen
Utensils
Letter V-
Scripture
Verses
Letter W-
Candy Bar
Wrappers
Letter X- XOXO
Letter Y-Yolk & Egg
Letter Z- Zebra
Check out my A to Z Valentines from last year.
Letter A- Apples
Letter B- Balls
Letter C- Cookies
Letter D- Donuts
Letter E- Emojis
Letter F- Frogs
Letter G- Gum
Letter H- Hearts
Letter I- Insects
Letter J- Jokes
Letter K- Kisses
Letter L- LEGO
Letter M- Money
Letter N- Nuts
Letter O- Office
Letter P- Popcorn
Letter Q- QT Pies
Letter R- Race Cars

Letter S- Scripture
Letter T- Tic-Tac-Toe
Letter U- Unicorn
Letter V- Vader
Letter W- Whales
Letter X- X for Treasure
Letter Y- Yo-Yo
Letter Z - Zoo
Want even more ideas? See my Valentine Vault of all valentines on michellepaigeblogs.
If you've enjoyed this Valentine post, please follow me on
Facebook
and
Instagram
for even more fun.