We're over halfway through our A to Z Valentine Printables.
Valentine's Day will be here before we know it! Are you ready? Need some more 'boy' valentine ideas? Well, you'll love today's theme.

Today we are on the Letter N.

N is for Ninja
You wouldn't believe all the FREE Ninja Valentine options out there.
Take a look!
Ninja Valentine Cards by Mary About Town
Ninja Pops by Bliss Bloom Blog
Ninja Valentines by Somtimes Homemade
Ninja Valentine Printable by LaLaLeeLou
Ninja Star Tutorial and Printable by The Mama Zone
Ninja Printable Valentine Cards by Happiness is Homemade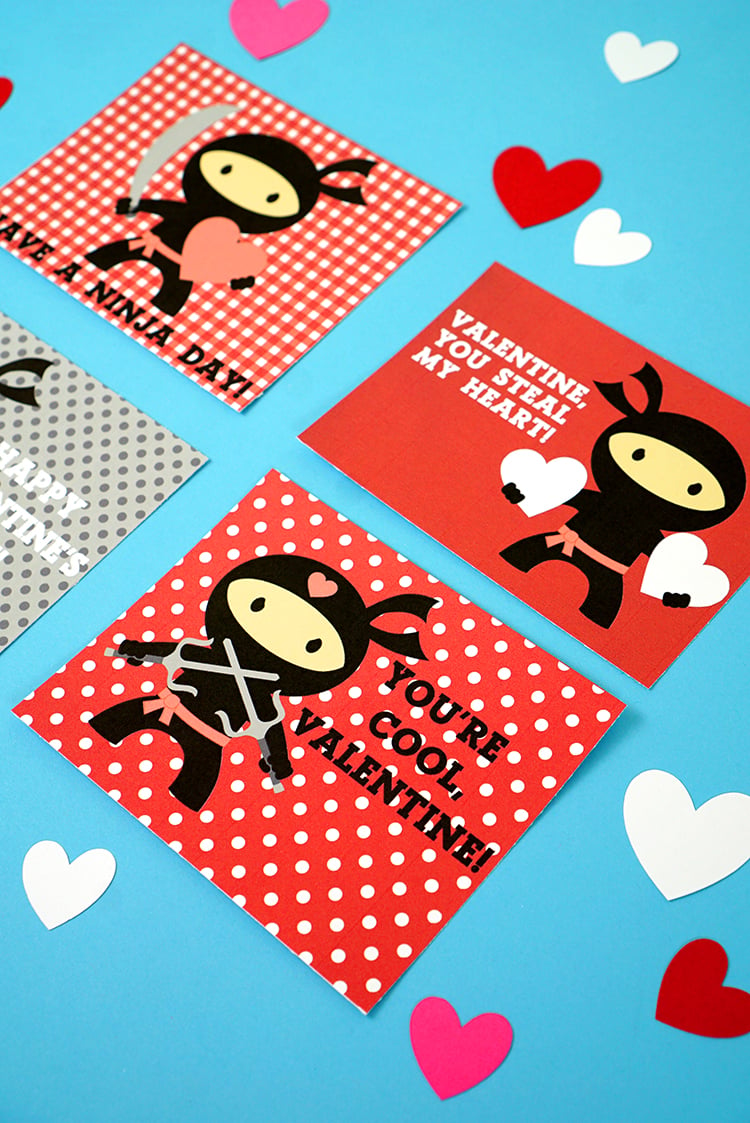 Ninja Valentines by Twitchetts
Ninjago Valentines by Over the Big Moon
And check out this fun Ninja Valentine Party
Here's the source for the bendable ninja toys. Click here.
(Affiliate link)
<
Want to see all the ideas in this A to Z Valentine Series?
Take a look!

Letter A- Animals
Letter B- Boy
Letter C-Chocolate
Letter D- Dinosaurs
Letter E- Eye Glasses
Letter F- Fish
Letter G- Greenery (Plants)
Letter H- Around the Home Love Notes
Letter I- Ice Cream

Letter J- Jellybeans
Letter K- Kool-Aid
Letter L- Light
Letter M- Mustache
Letter N- Ninja
Letter O- Olympics (Winter)
Letter P- Puzzles
Letter Q- Quirky
Letter R- Robots
Letter S- Straws
Letter T- Teachers
Letter U-
Kitchen
Utensils
Letter V-
Scripture
Verses
Letter W-
Candy Bar
Wrappers
Letter X- XOXO
Letter Y-Yolk & Egg
Letter Z- Zebra
Check out my A to Z Valentines from last year.
Letter A- Apples
Letter B- Balls
Letter C- Cookies
Letter D- Donuts
Letter E- Emojis
Letter F- Frogs
Letter G- Gum
Letter H- Hearts
Letter I- Insects
Letter J- Jokes
Letter K- Kisses
Letter L- LEGO
Letter M- Money
Letter N- Nuts
Letter O- Office
Letter P- Popcorn
Letter Q- QT Pies
Letter R- Race Cars

Letter S- Scripture
Letter T- Tic-Tac-Toe
Letter U- Unicorn
Letter V- Vader
Letter W- Whales
Letter X- X for Treasure
Letter Y- Yo-Yo
Letter Z - Zoo
Want even more ideas? See my Valentine Vault of all valentines on michellepaigeblogs.
If you've enjoyed this Valentine post, please follow me on
Facebook
and
Instagram
for even more fun.